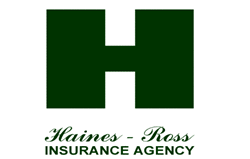 Haine​s-​Ross Agencies, Inc.
Commercial Auto Insurance
Commercial auto insurance can cover a combination of vehicle types (trucks, cars) and drivers, as well as some types of motorized equipment. It provides for bodily injury liability and property damage while operating a company automobile, medical payments or Personal Injury Protection (PIP) for the driver and passengers of the policyholder's car. Injuries or damage to someone else are also covered.
Hired/Non-owned Auto Liability Insurance
Are you renting cars or are your employees using their own vehicles? This particular coverage provides business insurance coverage for certain liabilities arising from the use of a rented or leased vehicle (hired), or a non-owned vehicle (employee using their own vehicle on company business). Oftentimes this coverage can be added inexpensively to a business auto policy, or in some cases, a general liability policy.
Insurance policies for privately owned vehicles may not cover damage to your privately owned car or truck when it is used for business, even home cosmetics, jewelry sales or a pizza delivery business.
Every business is unique – talk to today to find out how to get the best commercial auto insurance, service, price and value. Give Haines-Ross Agencies, Inc. a call at 248-476-7555
The Co-op and Condo Difference
In a co-op, the building's insurance is responsible for the structure, which usually includes walls, floors, doors, and molding. Since there is a blanket mortgage, the building's insurance is responsible for the "mortgage payments" if the unit is unlivable. Any changes or improvements made by the unit-owners falls under the unit-owners homeowners' insurance , e.g. lighting fixtures, wall paper, carpet, etc.
For condos, unit-owners are responsible for everything within their units. Each unit owner has their own mortgage and is responsible to the lender to be named as Loss-payee on their homeowners' insurance . The building's insurance will usually pay for damages to public areas, outside walls, some plumbing, basements, rooftops, etc.
Building coverage provides protection for permanent structures on the policy. Completed additions, permanently-installed fixtures, machinery and equipment, outdoor fixtures, owned personal property used to service, repair or maintain the building and additions under construction or repair are included

This coverage protects personal property owned by your firm and used in your operations. Furniture and fixtures, equipment and machinery, raw stock, and finished goods all fall within this category. Personal property of others while located in your covered building or within 100 feet of the premises can also be insured. Contents located off premises are not covered and must be insured by alternate methods.

This coverage protects your business from claims arising from alleged bodily injury, personal injury or property damage liability. It includes protection for services you render or products you sell. Coverage payments can include judgments, attorney fees, court costs, or other related expenses.

State law requires that every employer provide Workers Compensation insurance for their employees. This insurance provides coverage for accidents or disease arising from employment as prescribed by these state laws. Benefits can include lost wages, medical expenses, and permanent disfigurement/disability payments.

This policy provides protection against catastrophic liability claims. The policy acts as an excess coverage over your primary liability policies. Its limits apply in addition to that provided by the underlying coverage.

This coverage provides protection against loss due to criminal acts of others. Several types of exposures can exist which require consideration when analyzing your crime protection insurance.

Contractors equipment is inherently mobile in nature, thus several specialized Inland Marine forms and coverages have been developed to meet the needs of this class of business.

Traditionally, Boiler and Machinery equipment has been handled as a separate line of coverage. These policies combine, in one form, all the property and liability coverages needed for this valuable and important type of property. A variety of endorsements can be used to "customize" this policy to fit your specific needs.

Protection provided by a bond is not insurance. Coverage under an insurance policy involves a two-party agreement whereas in a bond, the person who pays the premium, known as a principal, is bonded for an action by a surety for the benefit of a third party commonly called a beneficiary. Bonds are distinguished between Surety bonds, which guarantee the performance of a contract, or Fidelity bonds, which protect against the dishonesty of employees.

0

/